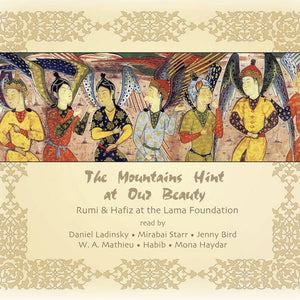 The Mountains Hint at Our Beauty--Digital Download
Follow the link here to purchase a digital version: https://lamafoundation.bandcamp.com/releases
Readings of Rumi & Hafiz at the Lama Foundation, with musical accompaniment.
Currently no hard copy CDs in stock.  Follow the link above to purchase a digital version.
--
Digital download can be found here: https://lamafoundation.bandcamp.com/releases
This CD is a gift to Lama Foundation. Proceeds will help support educational and art programs, establish fruit and berry orchards, beekeeping, and aid with sometimes-critical water shortages.
Lama Foundation is a sustainable spiritual community, educational facility, and retreat center in the Sangre de Cristo mountains near Taos, New Mexico. To welcome people of all faiths and spiritual traditions was the mission and vision of its founders— one of whom, Asha Durkee Greer, comments on "The Mountains Hint at Our Beauty:"
"My hope is this CD will attract younger people to Lama who have a nourishing experience of the spiritual, or want to; and who have the essential work ethic to sustain their own precious lives, and impart love to whatever their hands touch."
All the musicians and readers donated their time and talents to this project. A giant thanks to them: Jenny Bird - guitar, tanpura and voice; William Allaudin Mathieu - piano and voice; Habib - sitar, tabla, voice; Joseph McPherson - flutes. Christine Kahane sweetly read a poem with her dog helping. Mirabai Starr and Mona Haydar both read and blessed us, indeed. And no one got paid a penny, and all are glad.
— Daniel Ladinsky